Scholarships have been awarded to a new class of Anansi students.  Here are the students, along with the essay they wrote on their application and their sponsor.  We are honored to help these students improve their lives through education.  
Mary Otoo (aggregate 12), sponsors: Gail and Gary Fortenberry
There are so many reasons why I think you people (Anansi) should help me, but I will like to talk about few of them. My reasons are based on financial problems.
One of the reasons is that my parents do only fish business. My father is a fisherman and my mother a fish monger, Sometimes my father will be on the sea all day but will return bear handed. When it happens this way, my mother will not het any fish to sell to be able to get money to care for the family. Sometimes my mother will travel from here (Cape Coast) to Temale to buy fish from cold stores to come and smoke and sell. Sometimes I will be hawking all day. Whether raining or shining. Sometimes I will fall sick but I have to continue the nest day to be able to get money.
Secondly, my parents use the money derived from the selling to care and provide our (I and my three brothers) needs. Since my parents are the only persons who provide all our need, sometimes going to school becomes more complicated. These are the few reasons why I think Anansi should help me. Thank you.
My future dream is to become a nurse.
Nicholas Pabitey (aggregate 07) sponsor: Anansi
Pabitey Nicholas is my name. I am borne to the late Mr. Amos Pabitey and Mrs Naana Pabitey. My parent have three children of which I am the eldest.
I attended Efutu MA Basic School and at the age of 7 years my father passed out leaving us to my poor mother who is a peasant farmer. My uncle sponsored my basic education because I was clever and intelligent.
My ream is to become a medical doctor to save lives because my father died because of internal bleeding which could be saved by a doctor. I got teachers to encourage me to pursue general science in the senior high school.
I would like Anansi Educational (NGO) High School Scholarship Program to sponsor me to further my education. I would like them to supply me with the needed books like science GAST (Physics, Chemistry and Biology) and stationaries.
I will do my best to put much effort in my books and pass with distinction with the help of God.
Thank you
Charlotte Quayson (aggregate 13) sponsors: Larry and Alisa Roe
I have a dream of becoming a medical doctor in future. But in order to realize this dream, I have to be well educated and trained especially at the SHS level. But I have no one who can afford me that support. Even at JHS level I sometimes used to go to school with empty stomach and return to the house during break and eat ampesi. My parent could not ever afford extra classes money. But aside that, I took my studies very serious that is why I think you should award me with this scholarship to SHS. The saddest part is that due to poverty none of my siblings attended SHS or even was able to enter into apprentiship, which made them all jobless.
In this country my aim is to become a great person so that I can also help cleaver out needy students. Thank You.
Evelyn Sika (aggregate 08) sponsor: Susie Baird
I am a young girl of 14 years with an aspiration to become a medical doctor.
This ambition had motivated me to learn hard which is partly shown in my result. I want Anansi Scholarship Scheme to help me further my education in order to achieve my aims.
This is because I am being taking care of by a single parent (my mother) who is a peasant farmer and don't only support me but my blind father as well. I would be very grateful for your able selection.
Francisca Techie-Mensah (aggregate 12), Sponsor: Bob McDonnell
I am in the person of Francisca Xavier Techie-Mensah. I am sixteen years of age. I come from Ekon, but stay currently at Mpeasem New-Site in the Cape Coast North Metropolis, Central Region. I am chocolate in complexion and stand at about four feet tall. I am slim in stature but very hairy.
I attended Mpeasem AME Zion School and completed there. I am really serious with my studies and my favorite subject is science. Therefore, I have the aim of becoming a medical person in the future.
I reside with my parent; I am in a family of seven with which all my siblings are boys. I am also the first born of my parents. Even though my parent are financially unstable and cannot raise the needed funds required to further my education. They struggle a lot to provide our basic needs with the trading and cleaning works my mother and father do respectively. They are also very permissive. They allow me to take part in many academic programs and these have also been very beneficial to me and imparted a lot on my life.
In fact, the works of courage from my parents and other people towards my future career will forever be engraved in me. As a result I pursue to perform the duties I obliged to do. In order to make this dream of mine become a reality, so that I can make both my parents and my society proud.
Ummu-Khulthum Zakaria (aggregate 12) sponsor: Mark Harfenist
Reasons Why I Would Like Anansi to Award Me a Scholarship:
I was a student of Hassaniya Islamic JHS. I completed the school this year which is 2016 and I had the aggregate 12 in my BECE.
Why I would like Anansi to reward me the scholarship to SHS is that I know I had a very good grade and I could do better with a lot of support to push me to the senior high level.
I also know that if I am able to get the scholarship it will open many chances to my future career. I would like to be a journalist and I know with the help of the scholarship I would do better to make my dreams come through.
Again, I would really like the scholarship because my family is not all that financially sound, so I think it will be of great help and we will all appreciate it ery much. Ummu-Khulthum Z.
Daniel Adjei (aggregate 11) sponsor: Anansi
First of all I would like to thank the almighty God for such a wonderful opportunity. As the information behind indicates, I am Daniel Adjei, the son of Mr. John Acquah.
I heard of this opportunity when I was in JHS 1. I was hopeless because I thought all what I was doing was going to be in vein since I am from a family that no one has ever attended SHS due to great financial difficulties the family has been facing.
I therefore gained great courage when I heard the Anansi Award Scheem was real and people from my town have been enjoying such a wonderful paid. "Wow, what an opportunity?"
I said to myself, my dream of becoming an engineer is now gaining a deep root. By God's grace, I've completed JHS and my problem still holds. Who will take me to school?
But by this opportunity, I would like to plead that such an award should be granted to me to break the chain of schooling. I know if I am given the scholarship to SHS I will improve greatly on my performance and do better in WASSCE.
If someone should think of knowing how poverty is, I am the one to ask. Therefore, if I gain this opportunity and my dreams come true I will offer great help to people in need. Thank You.
Ebenezer Adjei (aggregate 07) sponsor: Susan Gardner
I am very happy to write the reasons why Anansi should award me a scholarship to senior high school.
First and foremost, the passing away of my mother. My mother passed away on June 2016. She was a stroke patient before she died. She was not able to assist us financially due to her health status, so we struggled and struggled before completing JHS. Please madam you can imagine how I am suffering.
Moreover, my father does not perform his duties as a father. My father has refused to assist the family. He does not think about our welfare at all. The stroke that knocked my mother down was as a result of the burden that my father opposed on her. He don't buy food for the family, shelter, health care etc. Due to his behavior, he was not able to even come to my mum's burial service.
Please madam, frankly speaking, there is no one in the family or a friend to assist me in my education. It is my dream to become a cardiologist in the future.
I, Adjei Ebenezer, therefore want to take this opportunity to appeal to you to assist me to further my education. Thank You.
Emmanuella Amoah (aggregate 18) sponsor: Leigh McDonnell
My parents do not have money for me to continue my education.
My parents don't work so at times I was in JHS I am going to school I eat roast cassava with oil with no fish. Some days I even go to school in hunger.
I am the first child of my parent who had finished JHS and also we live in a desolate house.
My dream of becoming an accountant is now gaining a deep root.
If someone should think of knowing how poverty is, I'm the one to ask. Therefore if I gain this opportunity and my dreams come true, I will offer a great help to people in need. Thank You.
John Jackson Andzie (aggregate 18) sponsor: Mickey Vitt and Donna Mueller
Anansi should award me a scholarship to senior high school due to the following reasons:
In the first place is financial problem: I have suffered a lot in paying fees and other materials before completing the basic school. This is because both parents of mine have passed away and the only one who helped me during my basic school days was my brother. He is also facing financial difficulties at the moment.
My aim is to become a policeman in the future to help maintain law and order in the country. I have some skills and ideas about cadet and was commander at my basic school. Due to that I have got two certificates.
I really love to continue my education to the highest level in order to achieve my goal as a policeman so due to this I would be glad if you offer me a scholarship.
Financial needs
Shoe, calculator, books, food.
Frank Appiah (aggregate 10) sponsor: Jane Talbot
I want Anansi to award me a scholarship to senior high school because my parents are catering for my brother's admission fees and also having financial difficulties.
And I want to be a medical doctor in future.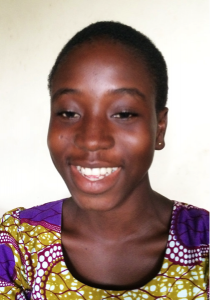 Priscilla Mumuni (aggregate 17) sponsor: Susan and Eric Hirst
*Looking at my background I could not be able to further my education without any help.
Dreams:
*Becoming a Nurse
*To help the society.
Financial Needs:
Inability to pay my fees.
Inability to provide my basic needs.
The reasons why I think Anansi should award me a scholarship to senior high school is because of the following reaons:
Firstly, is because I am a victim of Broken Homes. My parents are not staying together to make ends meet and this has caused us to face a great financial problem which is making me suffer a lot during my Junior High School days. I am sometimes asked not to take part in examinations because of not paying my fees which is very shameful as the Girls' Prefect of my school.
Secondly, looking at my background I could not be able to further my education without any help just like my elder brother who was not able to further his education after Senior High School and I don't want that to happen to me because I know I will be having a bright future.
Despite all this problem I have a great dream for myself and the society at large. My dream is to become a Nurse in future but because of the financial difficulties am going through I don't think I will be able to further my education and accomplish my dream but if this scholarship is awarded me I know I will be able to further my education and accomplish my dream which is to become a nurse and to help the society.
Patrick Antwi (aggregate 14) Sponsor: Bob McDonnell
My father has died two years ago and my mother is not a worker.
My dream for the future is to become a medical doctor , but there is no help. I am therefore seeking for help. I promise to do well if I am given the help I need and never to let myself and your organization down.
Amiira Yusif (aggregate 23) Sponsor: Marylou Stern, Jacqueline Nicolai, Janet Thomas and Forrest Wilkinson
Amiira is our Mohammed's cousin.
My name is Amiratu Yuif. I'm a 15 years old. I'm from Kumasi but stay in Cape Coast. I am dark in complexion. I am about 4 feet tall and have a round face with a pointed nose. I come from a family of six members. My mother is a market vendor. I like reading and playing Ludo at my leisure hours.
My motive for asking for Anansi's financial help is to help me in achieving my dreams of becoming a dietitian. I want to help people in terms of food intake and spread the knowledge of food poisoning to human consumption. I have a tendency for seeking the welfare of others, so I might take dietetics in health aspect so as to help me bring out my talent in nurturing. I have a strong willed personality and a comforting appearance.
Furthermore, I seek Anansi's help and guidance financially as per my mother's career can't afford all the responsibilities and needs of my future aspirations. I have love for good healthy life and the endurance to face all challenges. I am determined and focused to become a career woman to serve as a sole model to the younger ones in my community. As the adage goes, "When you educate a man, you educate one person, but when you educate a woman, you educate the entire nation." I strongly agree to the adage and have made it upon myself to help others when my dreams are fulfilled.
In addition, I humbly seek for advice in my dreams of becoming a dietitian. I believe it is a step in building the woman in me and as a result will help the state and firms at large.
In conclusion, I plead for Anansi's support in my endeavor and ask the Almighty God to richly bless you!
Desmond Dadzie ( aggregate 15)      Sponsor: Diaconie of the Thomaskerk in Amsterdam
The main reasons why I need Anansi in my life are to begin with, my family was managing to let me through some years ago. All of a sudden my father passed out and from there everything dropped back to stand still.
Also, my mother is just a peasant farmer and whatever income he gets from the farm is used for acquiring only the physiological needs of the family and because of that it has prevented me from furthering my education.
Last, but not least, I am in serious trouble because I always dream of becoming a doctor and due to this I find it difficult to achieve my aims, so I therefore plead to you to use your good office to rescue me from my situation.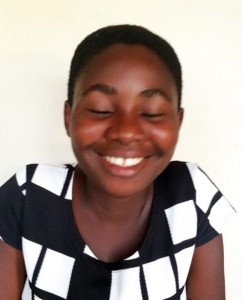 Sandra E.B. Eghan (aggregate 21)  Sponsor: Caroline Polak
The reasons I think Anansi Scholarship Education Scheme should help me is that my mother cannot afford to pay my secondary school fees due to the poor situation in the house. I cannot locate my father. I'm staying with my step father, who is a farmer.
Again I want to be a nurse in future to help my family as well as my parent and nation as a whole, but my parent cannot help me to achieve my dream.
Furthermore, if I'm given the scholarship it will help me to concentrate on my studies and also I will have sound mind to learn hard.
So please I would be very much happy if my application is considered in order for me to climb the educational ladder.
Thank You,
God bless you for your gesture.
Theresa Mensah (aggregate 16)   Sponsor: Jitske de Jong
Anansi Scholarship will help me to achieve my dreams. My mother is just farming. I cannot locate my father. I don't know where he is now. All my burden is on the shoulder of my mother and she cannot afford to pay my school fees. That is why I have been in the house since I completed in 2015.
I want to be a nurse to help my community as well as the nation. I would be very happy if Anansi scholarship will help me to concentrate in my books without thinking too much financially. Thank You.
Bright Donkoh (aggregate 20) Sponsor: Gail and Gary Fortenberry
The reason I want Anansi Organization to award me a scholarship is to aid my mother financially as a single parent to three children. My mother sells rice to take care of us, including our education. Life has been really difficult for us since she is the only one responsible for all our educational needs.
My mother is using all resources and means available to cater for my senior sister who has completed SHS wanting to enter the university to further her education and my junior brother who is also in JHS 2 now. And she cannot afford to take care of all of us at the same time. Due to this situation she insisted I must stay at home for a year or two to reduce the challenges and the pressure on her, so that in the next two or three years she can raise enough funds for my SHS education.
My dream is to become an engineer; Engineering is a broad term that covers a wide range of applicants and industries. Therefore in the field of engineering, I want to be a mechanical engineer in the future. I want to become one of the most powerful, greatest and most popular mechanical engineer in Africa and across countries. I am very talented, skillful, intelligent and smart to engage myself in the studying of science to further into engineering and I see myself to be fit and comfortable with my career goals. And I am ready to use this opportunity in a positive way and profitably through hard work and commitment in order to achieve my aims.