Bob McDonnell is a long-time Anansi sponsor and supporter. He recently visited Ghana with a new friend to Anansi, Linda. He wrote this summary of his visit.
Ghana, August 27-September 8, 2019
Last month I enjoyed a marvelous, deeply enjoyable trip to Ghana and Anansi Education.  It fell naturally into three parts—before the Anansi academic contest, the academic contest and the ensuing safari, and after the safari.
Kathryn Roe's driver, Kwame Annan, met me and my travel companion Linda Skibo at the Accra airport on arrival, and we were in his competent hands or Kathryn's for the rest of our two-week trip.  Kwame was a major presence in Linda's and my experience in Ghana.  In addition to him being a superb driver and knowledgeable tour guide, he is a long-time friend of Kathryn's and cultural interpreter. A brother of his is the chief of a village not far from Kathryn's home.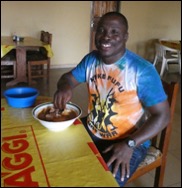 Kwame eating fufu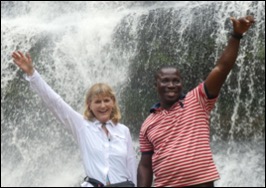 Linda and Kwame at Kintampo Falls
Because Linda and I needed some Ghanaian money, Kwame pulled over to the side of the road immediately after we left the airport, rolled down the window, and spoke with a young man standing at the roadside.  Within two minutes both Linda and I had changed US dollars for Ghanaian cedis, at the best rate we ever got.
That roadside transaction was the first of several that we enjoyed because of their ease and charm.  Driving in Ghana is marked by slowing down for speed bumps before every police checkpoint and at the entrance of every village.  Because vehicles are slowing down, it's a natural place for street vendors to gather and to offer their goods to the passing traffic.  Most of the vendors are women, some of them young men or boys.  Typically, the vendors carry their goods balanced on their heads which may account for the beautiful posture and grace of movement of almost everyone in Ghana.  The variety of goods offered is amazing.  At
different times and in different places we purchased bottled water, yams, bananas, rolls of toilet tissue.  Transactions are quick and easy.
Roadside vendors
In any event, three hours after changing money Kwame deposited us at Kathryn's home in Mpeasem.  It's a large, very comfortable home with large rooms and tile floors.  It has a high cement block fence enclosing a yard and some adjunct buildings including a former garage converted into offices for Anansi Education.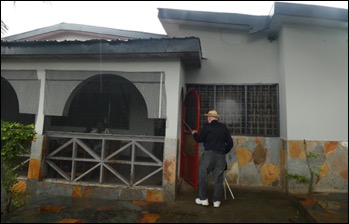 Bob entering Anansi House, Mpeasem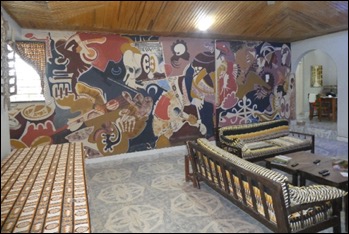 Abstract mural in living room of Anansi House
Linda and I had two notable adventures before the academic contest.  The first was a visit to Cape Coast Castle.  In colonial times the castle served as administrative and military headquarters, first for the Portuguese and then for the British.  It's a large, imposing structure, painted white.  Our tour took us through the rooms of the governor's palatial residence, with our guide emphasizing its spaciousness and remembered splendor.  Then he took us to daunting slave dungeons, where newly enslaved Ghanaians were held—stacked, really—pending being loaded onto a slave ship bound for the New World.  The dungeons are dark and cramped.  Though this was my second time through them (my first trip to Ghana was five years ago) it was still a wrenching experience.  Talk about humanity's inhumanity to fellow human beings.  On an exterior wall near the entrance to the dungeon, a plaque memorializes a visit to the castle and dungeons by Barack and Michelle Obama in 2009, with the note that some scholars think that Michelle Obama's ancestors may have been "processed" through these very dungeons.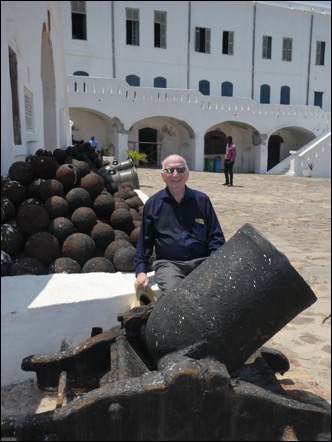 Bob at Cape Coast Castle 
In addition to the castle/dungeon visit, while in Cape Coast we also changed money again.  This time Kathryn led us through the teeming market.  We went deep into the market to a fabric shop.  Kathryn introduced us to a gentleman behind a counter piled high with fabrics.  A low overhead added to the exotic atmosphere.  After we said that we wanted to change money, the gentleman sent a young man on an errand.  We waited and chatted.  The young man returned with a small packet which turned out to be our cedis.  He handed them to the gentleman who counted them out to us, and we went on our way.
In the days between Linda's and my arrival and the academic contest, we explored Anansi Education by going on three "home visits" and by visiting the Assin Foso satellite of Anansi Education.  In the home visits, we met and talked briefly with the parents of three different current Anansi students.  Kwame drove, in his very comfortable Toyota Siena, to the place of each visit—from pot-holed highway, to unpaved street, to dirt lane, to cross-terrain driving through areas of mud or adobe buildings and assorted chickens and goats.  Twice we met with single mothers, told them how pleased and proud we were to be sponsoring their child, chatted for a few minutes through Lalinatu's translation.  (Lalinatu Ibrahim, also Lalina, is an Anansi graduate and assistant to Daniel Osei, Anansi's Managing Director in Ghana.  Daniel is an early Anansi graduate who did so well on the national school-leaving exam that he was able to attend and graduate from Ashesi University (and if you don't know Ashesi, please look it up—it's an amazing institution). Although all the parents had some English vocabulary, most of the talking was in Fante, the local language.  On the last visit, the parents were a couple, he a yam farmer and she a homemaker.  It was the most remote of the three visits.  We drove trackless for several minutes, then walked through semi-jungle for several hundred yards and met the parents.  Then, almost miraculously, as it had happened for the earlier two visits, someone produced chairs for us to sit on, out in the open air.  At each visit I was struck and humbled by the graciousness and dignity of the parents, the remoteness of their home, and the depth of their poverty.  Clearly these were valuable people whose children, without Anansi, would be trapped in their poverty.  When I asked Lalina how she picked the parents to visit, she said she chose the most accessible.
Student Home Visits
(from top to bottom: Rockson's family in Odumasi Village, Godfred's family in Odumasi Village, Godfred's family with Bob and Kathryn, Comfort's family in Wurase Station Village with Bob and Kathryn)
A few photos of visiting student homes in Wurase Station Village
Linda and I also visited the Assin Foso satellite, with Kwame driving and Lalina guiding.  Physically the satellite is a rented room in an adobe building, approached by another off-road adventure.  Daniel and Lalina go to each of the satellites periodically to meet with students and to provide group tutoring sessions.  On this visit we were able to augment the satellite with a whiteboard and easel, markers, erasers, cleaning fluid, and ten stacking plastic chairs.
McDonnell Satellite, Assin Foso
Then came the academic contest, held in Kathryn's yard and pitting the four satellites against each other.  The contestants were teams of two students from each satellite, chosen by their satellite colleagues.  Additional students and several interested parents swelled the attendance.  The contesting students sat at four double desks, spectators on folding chairs.  Over the course of several hours Daniel posed the multi-part questions/problems, gave the contestants several minutes to answer, and explained with great clarity the correct answers. Lalina kept score.  Daniel and Lalina ran the contest crisply and effectively. The spectators distinguished themselves by their close attention to the proceedings.  The questions/problems were highly appropriate, some of them quite difficult, being chosen from past national high school graduation examinations.  I was impressed by the eager attention and firm involvement of everyone.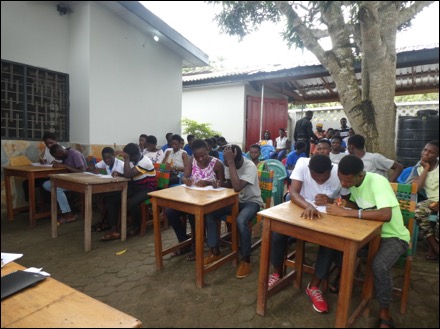 Students from the four Anansi Education satellites compete in the academic contest
Assin Foso satellite won the contest, the prize being a trip (two days later) for all fifteen of the Anansi students from that satellite.  It was an exciting trip for the students, a two-day drive north to Mole National Park for a one-day safari.  Some of the students had never traveled far from their village, some had never seen a monkey, many had never seen an elephant.  For the drive, the students, Daniel, and Lalina traveled in a bus.   Kathryn, Linda, and I drove in Kwame's Toyota.  We broke the two-day drive with an overnight stay in Kumasi, Ghana's second largest city with a population of about two million people.  The students stayed in a new hostel, TUMI Hostel.  Kathryn, Linda, Kwame, and I stayed in a hotel about forty yards away.
The TUMI Hostel was one of those interesting places that Kathryn seems always to find.  Recently established by a young woman from the Netherlands, it was a combination of hostel, restaurant, fabric and dress store, and school of clothing design and sewing for young women, giving them a way to earn a living other than vending merchandise on the street.  We dined at the restaurant and purchased some clothing.  We stayed here on the way to Mole National Park and on the way back to Mpeasem.
Women Empowerment Center design studio at TUMI Hostel, Kumasi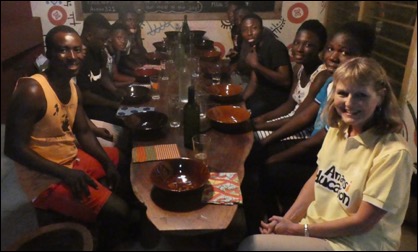 Anansi group enjoying a meal at TUMI Hostel, Kumasi
On our second day of travel, we stopped at the Boabeng-Fiema Monkey Sanctuary that shelters two species of monkey, a large black and white species called Black-and-White Colobus with an especially long white tail.  These Colobus monkeys are shy and can be a bit nasty, and stayed in the jungle trees, eyeing us warily through the leaves.  The other is a friendly species known as Lowe's Mona that came in clans down from the trees, approaching us carefully as we walked a short distance into the jungle and snatching bananas from our hands.  Ranging from the size of a large cat to that of a medium-sized dog, these monkeys were curious and swifter than lightning.  One such monkey was sitting on the ground about 10 feet from me, then dashed up, seized a banana from my hand, and was back in her original position calmly eating the banana before I could twitch.  One of them climbed in friendly fashion on the shoulder of Cosmo, our guide.
Boabeng-Fiema Monkey Sanctuary, Nkoranza North District, Brong Ahafo Region
(from top to bottom: Our guide, Cosmo, with Lowe's Mona Monkey,Lowe's Mona Monkeys,  Bob feeding Lowe's Mona Monkey)
At Mole National Park we stayed at the Mole Motel.  My room was large and comfortable, with the surprising notice on the back of the door asking guests to lock the door when they were in the room, to keep the baboons out.  A very nice swimming pool provided on opportunity for the students to splash around.  Kathryn, Linda, and I had fun watching.
Anansi Education students enjoying the pool at Mole Motel
Early the next morning our entire group rode into the jungle on safari, in open nine-passenger vehicles.  Over the course of several hours we saw several species of antelope, also bushbucks, warthogs, more monkeys, and baboons.  The big treat and the most exciting event was sighting a herd of six male elephants, clustered together as though for mutual protection.  To see them quite close, we got out of our vehicles and walked for several hundred yards. They looked content with each other's company and spent most of the time using their trunks to scoop up dirt and scatter it over themselves to protect themselves from both heat and flies.  On returning to the Mole Motel we were treated to a view from the escarpment of several elephants grazing in a valley with watering hole just below the motel buildings.
Mole National Park, Damongo, Savannah Region
(from top to bottom: bushbuck, baboon, kob, safari driver and Bob, bushbuck and warthog, elephants)
Anansi Education group at the Centre for National Culture, Kumasi—our final stop together
After our return to Kathryn's home in Mpeasem, Linda and I had two more very exciting experiences, both of them giving examples of the wonderful capacity of people in Ghana to enjoy life.  The first was the Cape Coast Festival (or Oguaa Fetu Afahyte) which celebrates the local chiefs with a parade.  For viewing the parade, Kwame activated his social network, and a friend of his invited us to view the parade from the second-floor balcony of her fabric and dressmaking shop.   Before ascending to the balcony, we had soft drinks at a table on the edge of the parade street, sharing it briefly with some people from Los Angeles in outfits made from matching fabric who had come to Ghana specifically to take part in the parade.  We ascended to the balcony and bellied up to the balustrade to view the unfolding scene below.  This main street of Cape Coast was thronged with joyous people from wall to wall and up and down the street.  For several hours, groups from the local villages paraded by singing, chanting, dancing, and holding high aloft their sumptuously attired chief in a sumptuously adorned palanquin.  As each group pushed its way through the throngs in the street, the lead element was typically a chanting, dancing group holding stools (symbols of chieftaincy), followed by the four stout fellows bearing the chief on their heads, followed by a group of musicians, sometimes playing native instruments, sometimes a brass band, sometimes a mixture.  Interspersed were men on stilts, a contortionist, men parading in wheelchairs—all joyous, all celebrating.  (I saw no evidence of intoxication.)  Linda and I were almost transfixed for several hours.
Cape Coast Festival
 As exciting and enjoyable as the festival and parade was, the next day surpassed it, for me.  Kwame's brother Yousif drove us to Anomabu, a village not far from Cape Coast, to see a posuban, a shrine of the native religion, animism.   After dropping us off at the entrance to a broad alley, Yousif took the car to find a parking spot, and Linda and I walked about a block and a half into the alley until it widened.  There stood the most impressive of the posubans called Asafo #3 (Dontsin)—a piece of statuary about eight feet all, blocky, with several flat surfaces where statues of the venerated animal-gods stood—a rooster, a warthog, an elephant.  The statuary was freshly painted white, the animals in vivid colors.  Meanwhile Linda and I had attracted a crowd of neighborhood kids—about twenty or so—who crowded around us with intense curiosity and the biggest, widest grins ever.  Ranging in age from about two or three to perhaps nine or ten, they not only grinned but jostled each other, chased each other in circles, jumped up and down.  They were very excited and pleased to see us.  Through gestures, they signaled that they wanted me to take off my broad-brimmed straw hat.  Which I did.  They responded with howls of laughter, even broader grins, and more running around and jumping up and down expressing what I still presume to be pleasure, excitement, and joy.  We—the kids and I—repeated the experience.  I took off my hat; they exploded with joy.  Then Yousif showed up, and we returned to the vehicle.
At posuban, Asafo #3 (Dontsin), Anomabu
What ties the two experiences together for me—the parade and the kids—is the unalloyed pleasure in being alive that the Ghanaian people expressed.  For me, they were exciting and fitting final experiences in Ghana.  The next day Kwame drove us to the Accra airport, and Linda and I flew home.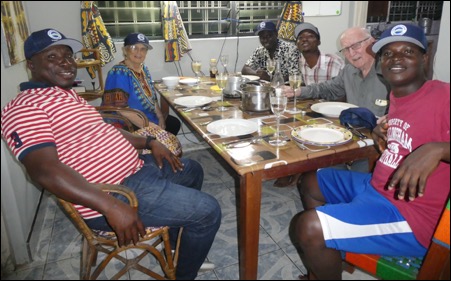 Around the dinner table at Anansi House, with Kwame, Kathryn, Seidu, Erick, Bob and John