Here is a preview of the live auction items for sale at this year's Anansi Education annual auction.  Remember, many more special items will be priced for sale at the event. We look forward to seeing you there!
LIVE AUCTION ITEMS:
Contemporary Bee Mask 25 inches high
This is a contemporary replication, by a Ghanaian artist, of a traditional Zaire Song Ye "bee" mask. It is beautifully carved and was purchased directly from the artist that carved it, north of Accra. Value: $500.00
Zaire Stool 10 inches high, 24 inches wide, 9 inches deep
This stool consisting of a male and female figure holding onto each other represents the benefits of a good marriage and the stability of a strong family. All stools are created to accommodate the need that important people are not obliged to sit on the ground. To this day, how one is seated when visiting a small village has great significance.  $1000.00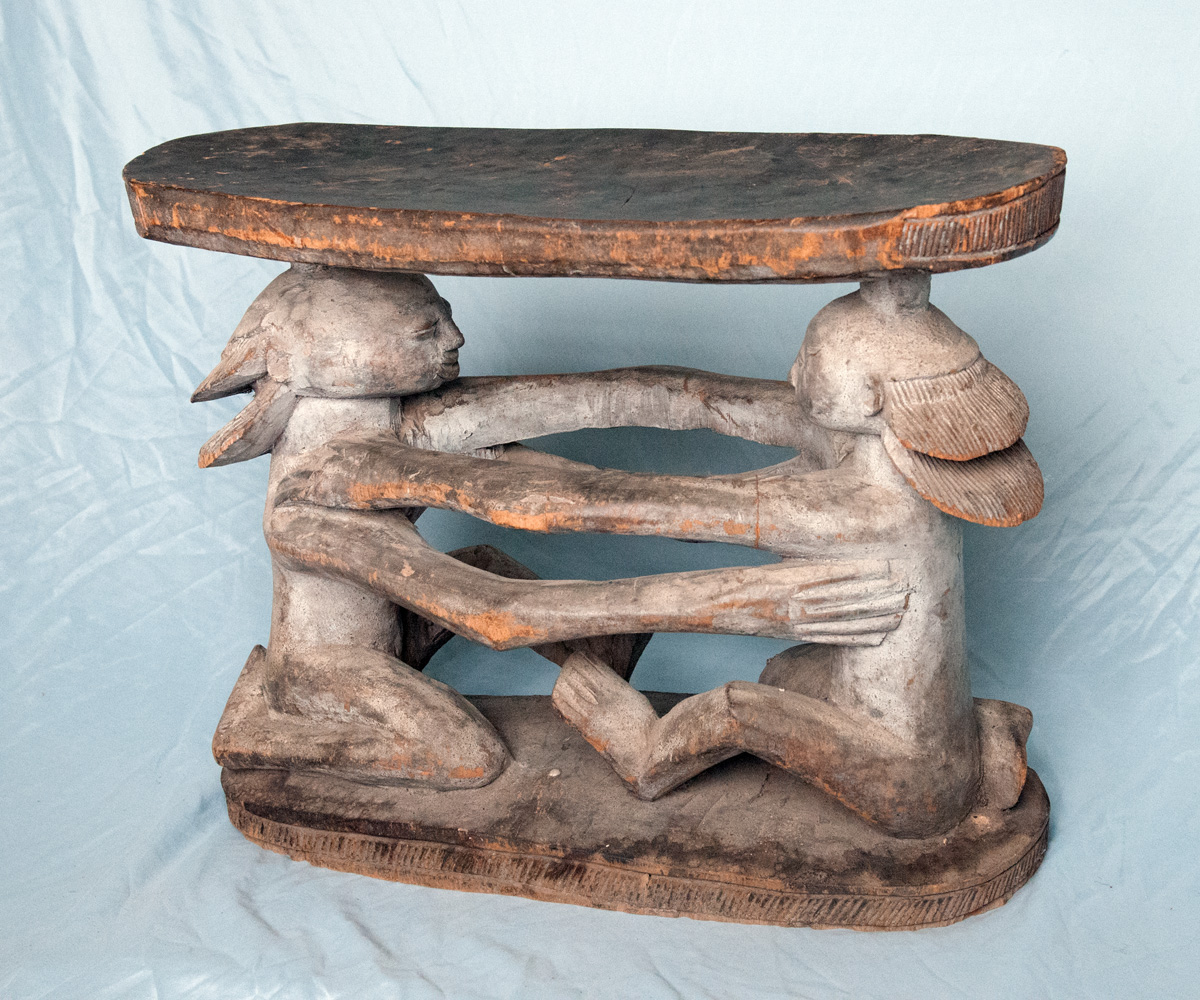 Butterfly mask, 37 inches wide, 9 inches high
This Butterfly mask is of the Bwa tribe in Burkina Faso. Only red, white and black can be used on butterfly masks and our typical example is carved from a single plank of wood. It symbolizes fertility expansion, growth and prolific-ness. It acts as an intermediary between the god, Do, and men, and restores harmony between man and nature. This mask would be used during agricultural festivals to encourage the gods to provide rain for the newly planted fields. Value: $120.00
Rhino 16 inches wide, 7.5 inches high
This fine contemporary carving of the indigenous rhinoceros was made out of very dense ebony wood.  It was purchased directly from the Ghanaian carver in an Aburi artist compound near the Botanical Gardens north of Accra.  Value $250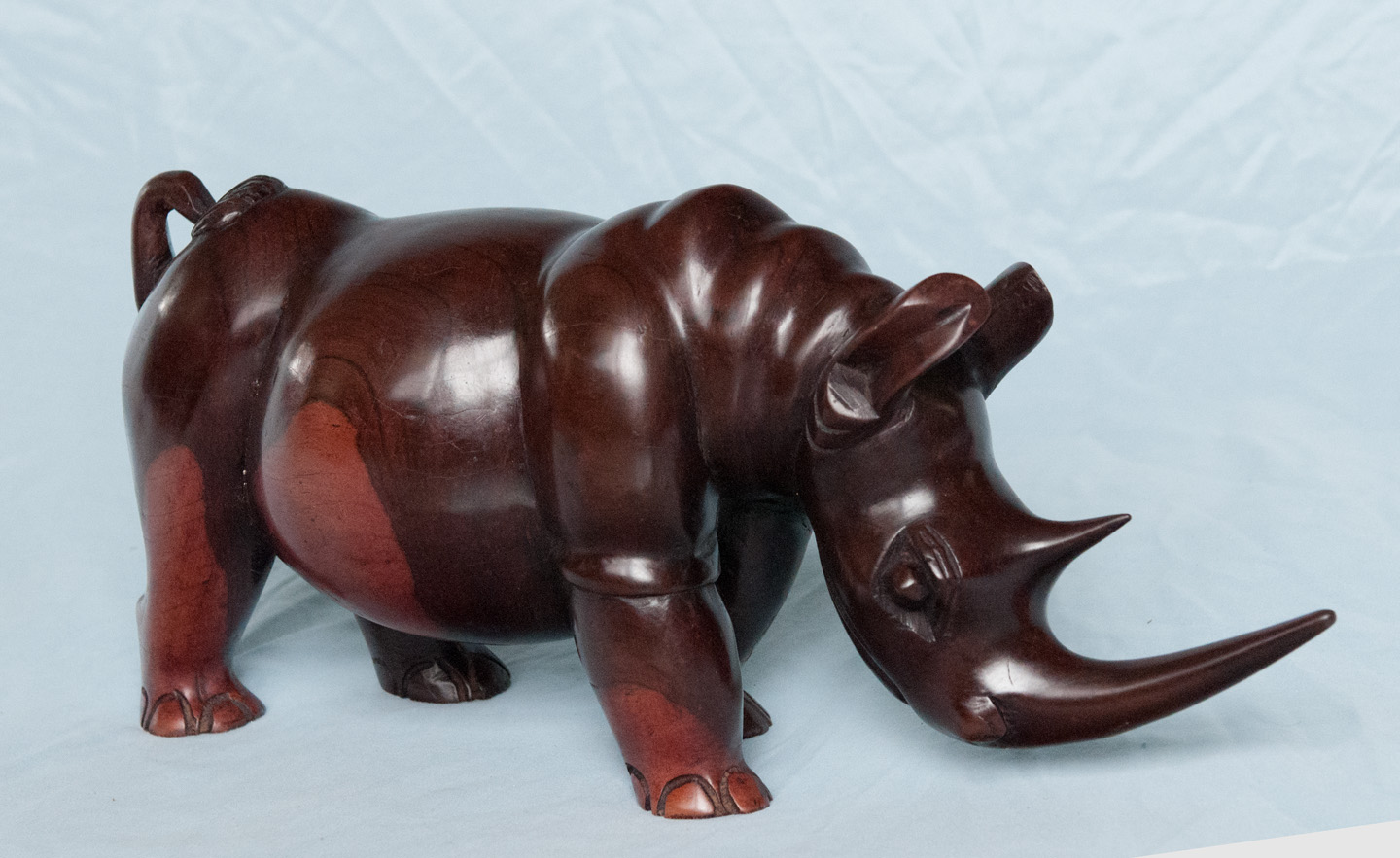 Ashanti Fertility Doll 13 inches high
This is a valuable old fertility doll and while we have had fertility dolls through the years, there is universality to their appeal. They are designed for women to carry in the waistband of their clothing to insure the beauty and health of their children.  Value: $175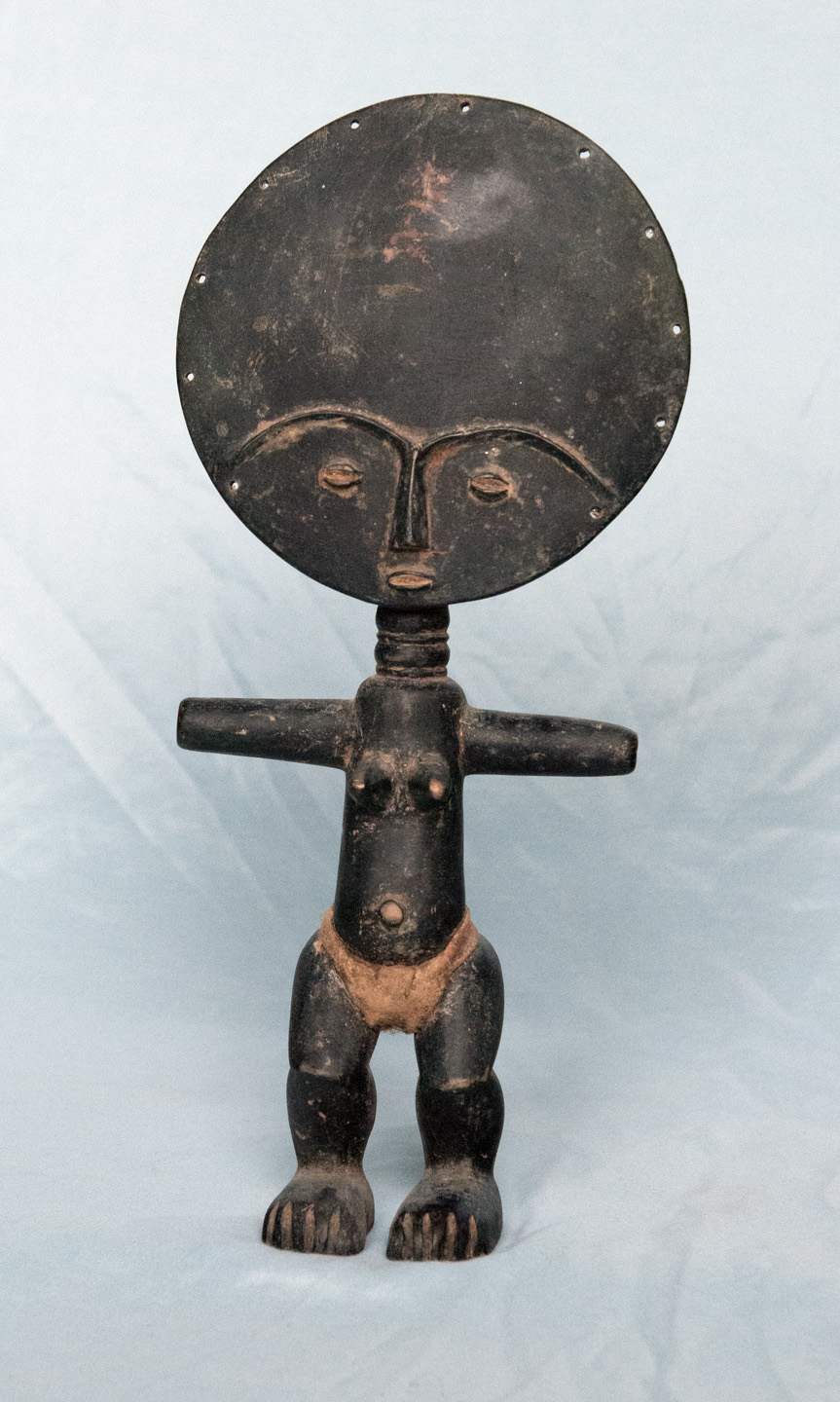 Pair of Baule Spirit Spouses   12 inches high
The Baule of Cote d'Ivoire believe in a parallel spirit world. A troubled relationship in this world can indicate that a person's sprit spouse has been neglected. These sculptures are kept and tended in the home.
Colonial era Baule figures from the first quarter of the 20th century often emulate figures of success and authority such as students, businessmen, police, soldiers, clergy and government officials. This pair includes a businessman and a doctor. Value: $175.00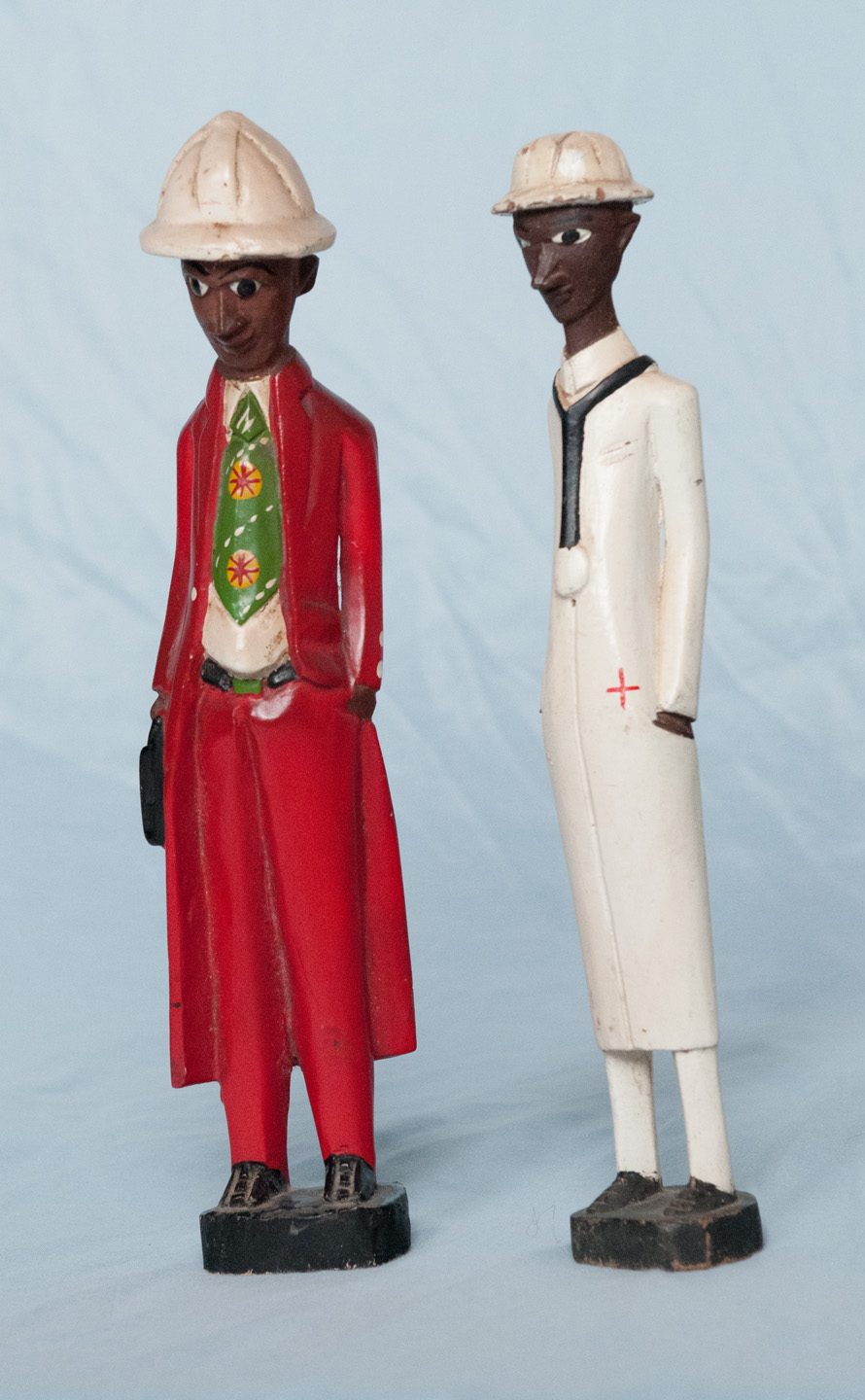 Kaogle Mask  17.5 inches high, 6 inches wide
This Kaogle mask of the Dan people in Cote d'Ivoire are characterized by protruding disc like cheekbones, triangular eyes and an overhanging brow. Kaogle masks typically represent chimpanzees, crocodiles or birds. This style had a strong influence on Pablo Picasso who gathered over 100 pieces of African art between 1907 and his death.
Value:$120.00
See No Evil, Hear No Evil, Speak No Evil
each approximately 26 inches by 8 inches
The three wise monkeys carved here are a contemporary rendering of an original 17th century Japanese proverb embodying the principle "see no evil, hear no evil, speak no evil". The three monkeys are Mizaru, covering his eyes, who sees no evil; Kikazaru, covering his ears, who hears no evil; and Iwazaru, covering his mouth, who speaks no evil.