Lalina is twenty two years old, has an almost six year old son, is an Anansi graduate who has been working for Anansi for one and one half years, and is one of the most remarkable young women I know in Ghana.  Most girls in Ghana suffer from self esteem problems.  Lalina is different.  She isn't manipulative, as many here have learned to be because of their lack of power, but is quite straightforward, honest, smart and very hard working.  I like her a lot.
Lalina broke off the bottom of her right front permanent tooth when she was seven years old during a childish tussle that ended in her face crashing into a table leg.  "We were just fooling around " she told me.  As a result of this mishap Lalina's right front tooth is about one fifth shorter than her left front tooth.  The part that had just come through the skin was broken off during that altercation with the table leg.
Last week she and Daniel, another Ghanaian gem who is our Managing Director, started their junior high school talks about Anansi.  They contacted the headmasters and mistresses of the schools and arranged time to go to the schools and tell the students about the change in Anansi scholarships, the new criteria and just how those who qualify can apply.  Lalina came back to the Anansi office after the presentation at the Mpeasem school as high as I've ever seen her.  She was absolutely delighted with herself.  She had done the bulk of the presentation with Daniel's support only when it came to the student questions at the end.  And she had done a good job.  Remember most young women here speak so softly that you can hardly hear what they are saying.  Not Lalina.
Yesterday she came back to this house as pleased with herself as she had been after her student presentation.  This is what she told me: "I was so happy when I left the hospital.  Not just because I'm getting my tooth fixed, but because of how I was able to do what I did at the hospital.  Mama, I walked in by myself, looked at all the people siting waiting to talk with someone, and I just walked up to the woman at the desk and said, "Good morning.  I'd like to talk with the dentist."  She sent me up the stairs where I said the same thing to the nurse up there and she sent me to a door where I knocked and there was the dentist.  It was so fast and I did it all myself."  Seeing Lalina's satisfied smile and watching this young girl turn into a confident young woman after such a rocky start to her teenage years is the kind of thing that keeps me coming back to Ghana.  And the thirty dollars to get Lalina's tooth fixed is the best money I've spent in a long time.  There is joy of a good kind around here.
-Kathryn
Lalina before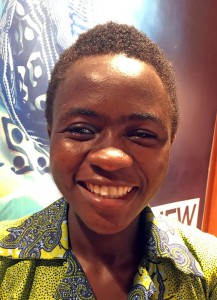 Lalina after