Shop for Your Holiday Gifts in West Africa and Donate to Anansi at the Same Time
Our new satellite program is going well with new Anansi stations open in Assin Faso, Moree and Shama. We are serving 35 new students in these three satellites and our home base in Mpeasem plus we are now employing four of our graduates, Mohammed Inuwa, Daniel Osie, Lalinatu Ibrahim and Innocent Zeye-Mensah. Buying your holiday presents from Anansi will help fund these stations and their managers. Thanks.
Many of these for sale Christmas items I brought back from a recent trip to Cote d'Ivoire in a big blue suitcase bought from Stephen Antwi (Stephen was one of the guides for our WCC students who spent fall quarter in 2000 in Cote d'Ivoire). I tell you this so you will know how special everything is. The batik table cloths are nicely made in Cote d'Ivoire and I discovered that the little figures I like so much do not come from northern Ghana as I had been told, but are Yacouba sculptures from Man in the central west area of Cote d'Ivoire.
Lydia makes the "Floppy Bags" here in Cape Coast and I can get as many of them as you want. I love using these bags as they are light, very attractive and convenient with inside and outside extra pockets. I will bring as many as you order before Dec. 4 back with me on Dec. 8th. You can come to my house in Bellingham and choose the ones you have bought on line beginning on Dec. 9th or I will mail them to you if you are not in town so you will get them before Christmas.
The heavy cotton backpacks with the Anansi logo on them were made by Christina, taxi driver Kobi's wife, and we are supplying all of our new and continuing students with these bags for their use at school. If you want to buy one or five or ten of them, I will bring them back with me. I will only bring the ones that are ordered and paid for on line before Dec. 4.
* This asterisk indicates that I can get more of this item to bring back for your Christmas giving. No asterisk means that the quantity is limited.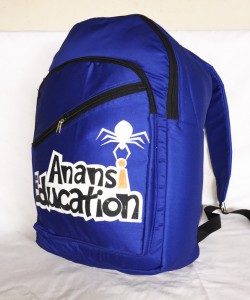 1.  *Anansi Education Back Pack
17" high, $35
Made from heavy blue cotton fabric, these packs are comfortable and strong.
2.  Ashanti Fertility Doll
15" high, $60 each
These fertility dolls are used to ensure beautiful, healthy babies. We have three of these beautifully carved dolls. They are not especially old, but they are very nice.
3. Batik Cotton Tablecloth
93" by 56" $95
This fine batik style rectangular tablecloth was made in Cote d'Ivoire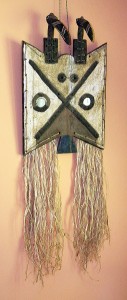 4. Burkina Faso Mask
Approximately 56" high (including new raffia) $2,500.00
This collector's mask is old, valuable, and very special. This is a once in a life time gift for that most important person in your life.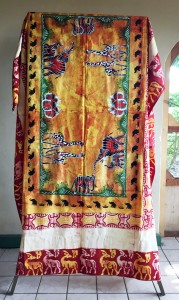 5.  Large Batik Heavy Cotton Tablecloth
94" by 63" $130 with five small napkins
This unique batik cloth is exceptionally well done. It is beautiful.
6. Round Batik Tablecloth
75" round $110
The only place to get one of these quality round batik tablecloths is in Cote d'Ivoire. It is made from heavy cotton and is lovely.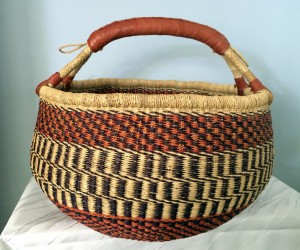 7. *Bolgatanga Basket
17" wide $50
I can bring as many of these baskets back with me as you need. Your order will need to be placed before Dec. 4.
8.  *Lydia's Floppy Bags
approximately 14" to 16" high, $20 each
We have pictured four of these bags on line, but they are all different. If you order several of these (or one), you can pick it or them up at 501 16th St. in Bellingham from Dec. 9th through Dec. 20th. First to come will get first choices. Or we will mail them to you so they arrive before Dec. 25th.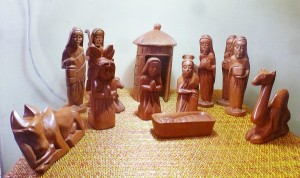 9. *Hand Carved Nativity Scene
The central figures are about 7inches high, $200 per set
These hand carved nativity sets can come in different colored wood ranging from dark black/brown to medium or light brown. Please indicate your preference when ordering.
10. Cote d'Ivoire Hippo
4.5" tall by 13" long, $80
For that person who has everything but an African Hand Carved Hippopotamus
11. *Yacouba Sculptures
14" to 15" high, $35 each
These colorful Yakouba sculptures made in Man in Cote d'Ivoire are "Good Fortune" charms for your home. They are all delightful. I will bring as many as you want back with me in December.
12. Senufo Mudcloth Hangings
36" by 12.5" $40 each
These traditional mudcloth paintings on hand woven cotton fabric were made in Korogo in the north of Cote d'Ivoire. They are attached to bamboo strips for hanging (no framing necessary). The three pictured here are the only ones available to us at this time.
13. *Wisk
Approximately 19"long, $15
These leather and horse hair hand made wisks are used to remove evil spirits from your home.
14. Wooden spoons
14" long, $12 each
We have only three  one of these wooden spoons from Cote d'Ivoire.
15. Woodin's Blue and Metallic Gold Fabric
6 yards, 48" wide, $120
This Woodin's Fabric can be made into a tablecloth, curtains or a bedspread. If you order before Dec.1, Mohammed will make it into whatever you want before I leave Ghana. Just email us the measurements or buy it as fabric.
——
When you place your order, please:
-Click this PayPal button to pay for the item. If you want your order sent to you, please add postage to your payment ($5 for lighter items, $8 for heavier items).
– Send an email to me (roekathryn@gmail.com) telling me your name, address (if you want your items sent by mail) and the names and numbers of the things you bought, if the the payment was made online and indicating if you will be picking it up in Bellingham or if you want it sent to you. . Thanks.